Power Up with Electrical Solutions from P&CG
P&CG operates in multiple sectors of the electrical energy infrastructure, both underground and overhead.
Our electric division is dedicated to providing highly efficient and skilled services. Our experienced workers take great pride in their craftsmanship and expertise. We are also proud to offer state-certified Electrician Apprenticeships and journeyman lineman apprenticeships through NEPPA.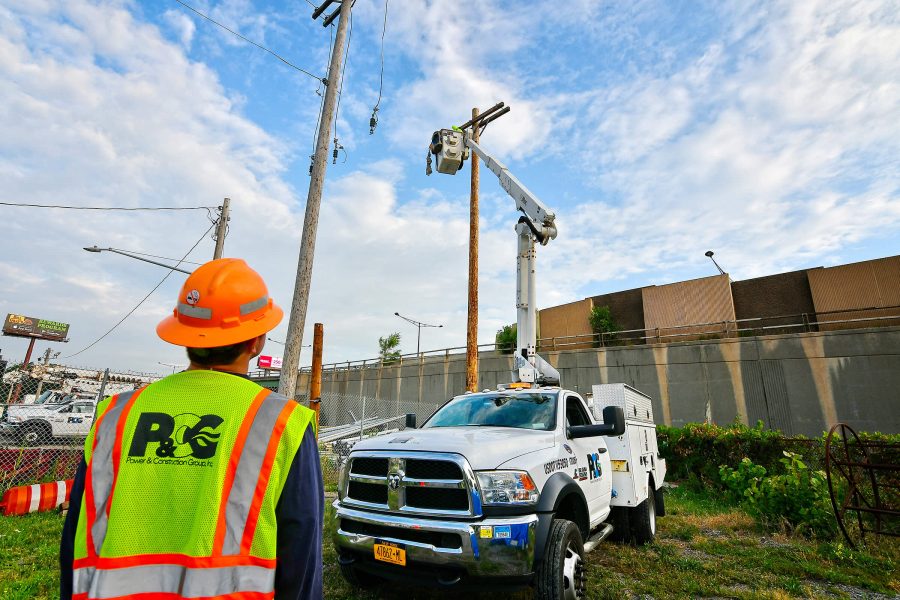 P&CG's Industrial Electric Division operates in multiple sectors of the electrical energy infrastructure including primary utilities, solar, public work, and private contracts.
Our operations include underground and overhead primary distribution, substation expansion, gas RTU and odorization electrical services, standby generator systems, system controls, street and decorative lighting, and much more.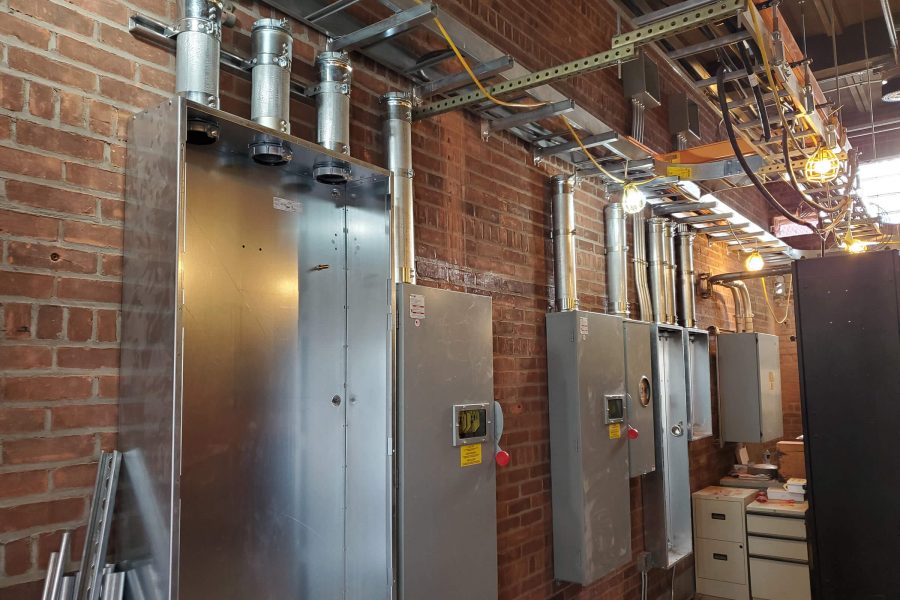 Primary Distribution
Our industrial electric department excels in the installation and maintenance of primary overhead and underground electrical distribution for local utility companies. With our generous and ever-growing fleet of specialized vehicles and trailers, there is no primary job too big nor too small for our professional lineman.
Standby Power Generation
Standby power generation is a key piece of infrastructure in both private and municipal buildings and seems to be a growing commodity. P&CG offers skilled labor to professionally install automatic transfer switches and pad mounted standby generators as small as 50 KW to 750 KW.
Street & Decorative Lighting
Streetscape projects are large and take a long time to finish. At the end of those kinds of jobs, towns and cities are left with a landscape that attracts tourism and commerce alike. We install many of the decorative lights on these projects that give the final touch to fresh sidewalks and critique landscaping.
Substation Expansion
Power and Construction Groups Industrial Electricians are also qualified to work in Avangrid's state of the art distribution facilities.
Gas RTU & Odorization
We also work closely with our local Gas Utilities in supplying NYSEG and RG&E with state-of-the-art gas odorization buildings, RTU, Regular, and Metering Stations.
P&CG offers a wide range of streetlighting focused installation, repair, and maintenance services. We are fully equipped to provide a complete package of lighting and supply infrastructure for both overhead and underground electric. Drawing on experiences formed over 40 years of service, our technicians are highly trained and strive to be at the forefront of safety within the industry.
From regional distributors including RG&E and NYSEG to local municipalities, utilities, and private contracts, P&CG provides services across Western New York. Our street lighting solutions can help improve quality of life and sense of security for home properties, local streets, business lots, and much more.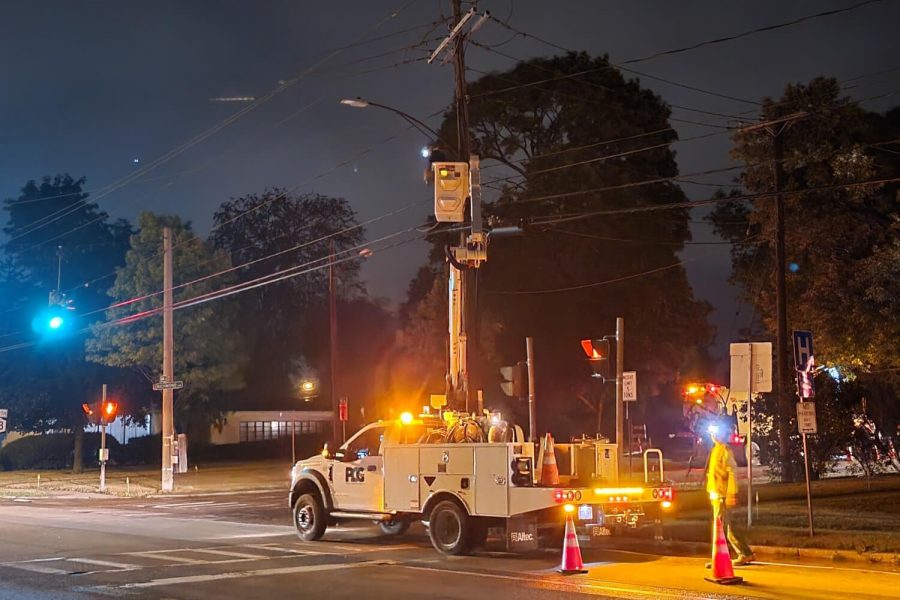 Streetlighting services include:
Installation & Removal of Utility Poles
Installation of High & Low Voltage Overhead Electrical Utilities
Installation of Underground Electrical Utilities
Underground & Overhead Electric Line Fault Locations
Street & Area Light Installation
LED Lighting Conversions
Storm Restoration & Emergency Repairs
Thermography, Inspection & QA/QC Services
Our crews inspect distribution lines and substations and document problems before they cause outages that affect customer satisfaction and reliability measures like SAIFI. Utilizing your maps we will patrol your circuits and stations and, based on your criteria, provide immediate or periodic notifications of identified problems.
We provide stray voltage and grounding testing to ensure compliance with regulatory requirements and internal maintenance programs. In addition, we also provide QA/QC Services for a variety of maintenance programs like Wood Pole Inspect & Treat, where verification of your chosen vendor's compliance to specifications is important.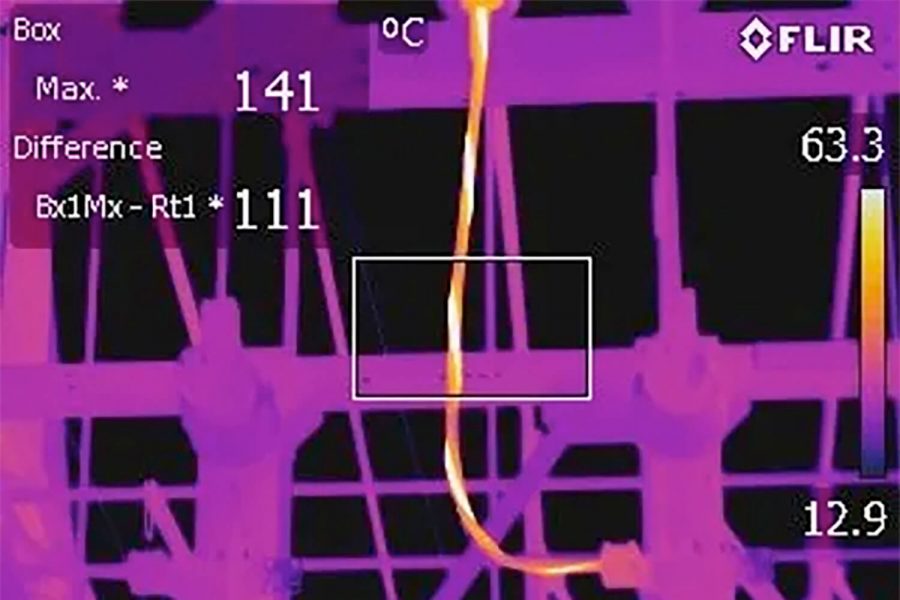 Get in Touch with Our Electric Services Team
P&CG's dedicated service teams are always ready to help. Whether you're facing a problem that requires urgent attention or simply have a question you need answering, our experienced professionals are here to assist you in any way they can.
Don't hesitate to get in touch with us – we're always happy to help!